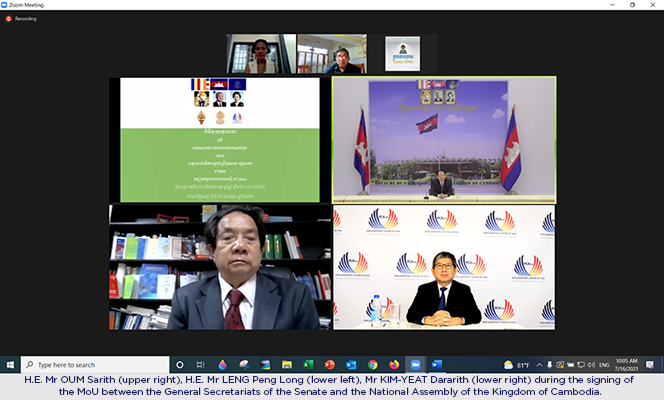 On the morning of 16 July 2021, the signing ceremony for the Memorandum of Understanding between the General Secretariats of the Senate and of the National Assembly of Cambodia and the Parliamentary Centre of Asia (PCAsia) was organized via videoconference and presided over by H.E. Mr OUM Sarith, Secretary General of the Senate, H.E. Mr LENG Penglong, Secretary General of the National Assembly, and Mr KIM-YEAT Dararith, Executive Director of PCAsia.
The signing of this MoU builds an official cooperation framework for partnership between the Cambodian Parliament and PCAsia in jointly organising capacity strengthening programmes for Cambodian parliamentary staff on important skills, including parliamentary research, fiscal analysis, parliamentary communication, legislative drafting and analysis techniques, parliamentary diplomacy, and supporting other activities of parliamentary committees.
On the occasion, H.E. Mr LENG Penglong, Secretary General of the National Assembly, expressed his interest in strengthening comprehensive cooperation to promote and support PCAsia activities in its mission to enhance the capacity of parliamentary staff and to support parliamentary committees.
Mr KIM-YEAT Dararith also took the opportunity to point out that the Cambodian Members of Parliament and the Parliamentary Secretariat requested the establishment of PIC ten years ago, and how the institute has now made its transition to PCAsia, a southern driven centre which established cooperation with AIPA Member Parliaments though the AIPA Secretariat, contributing to increased South-South and South-North cooperation.
He also expressed his sincere thanks to the Cambodian Parliament the other AIPA Member Parliaments and its Secretariat, the development partners, in particular SDC and Sida, as well as the various implementing partners such as the French Parliament, the Swiss Research Services and the Legislative Assembly of Ontario for playing a crucial role in providing contributions and support since PIC's establishment and now to PCAsia, which allows this triangular cooperation to take place successfully.
In response to this successful transition from a national institute to a regional Centre, H.E. Mr OUM Sarith, Secretary General of the Senate, expressed his congratulations to PCAsia and strongly recognised the invaluable and active contributions from Sida, the EU and SDC towards strengthening the capacity of the Cambodian Parliament.
The Secretary General of the Senate also stressed that the signing of the MoU was of great significance and opens a new page in an official cooperation framework to strengthening the professional capacity for staff of both chambers contributing to the achievement of the Cambodian Visions 2030 and 2050, as well as to enhanced South-South and North-South cooperation.
All parties to the signing of the MoU shared their commitment to cooperate in strengthening capacity and skills for the parliamentary staff as well as in striving to provide supporting services to the Members of Parliament with high quality and professionalism in response to the increasingly high expectations of citizens.