ទិដ្ឋភាពទូទៅ និងយុទ្ធសាស្ត្រទំនាក់ទំនងសម្រាប់ការបង្ការ និងគ្រប់គ្រងជំងឺមិនឆ្លងប្រកបដោយប្រសិទ្ធភាពនៅកម្ពុជា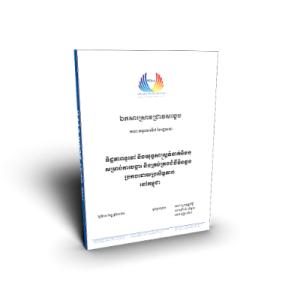 និន្នាការនៃជំងឺមិនឆ្លងនៅក្នុងប្រទេសកម្ពុជាបានកើនឡើង ជាពិសេសជាមួយនឹងជំងឺសរសៃឈាមបេះដូង ហើយកត្តាហានិភ័យមូលដ្ឋាននៅតែជាថ្នាំជក់ និងគ្រឿងស្រវឹង របបអាហារដែលគ្មានសុខមាលភាព កត្តាហានិភ័យនៃមតាបូលីស  និងកង្វះកាយវប្បកម្ម ។ 
Overview of Non-Communicable Diseases and Communication Strategies for Effective Prevention and Control in Cambodia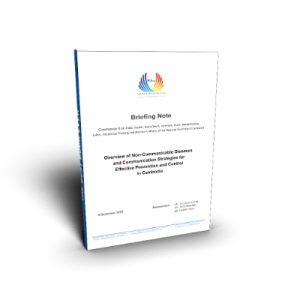 The trend of NCDs in Cambodia has increased, especially with cardiovascular disease and the underlying risk factors remain tobacco and alcohol consumption, unhealthy diet, metabolic risk factor and physical inactivity. The high-risk groups for NCDS are males and females aged 30 to 69 years. However, there is a higher prevalence among men than women in some risk factors such as smoking and alcohol consumption, especially among men aged 18 and 49 years old.
Water-Energy-Food Security Nexus Approach in the Context of Climate Change: Possible Collaboration between Asia and Europe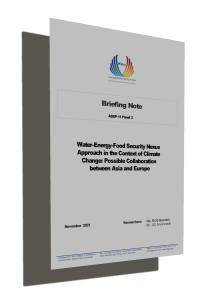 This briefing note seeks to address three research questions:
What is the status of Water-Energy-Food Security in Asia and Europe?
What are the challenges facing by the two regions related to water, energy and food
security?
How could Asia and Europe cooperate more to increase food security, while managing
the water and energy challenges in the framework of the Water-Energy-Food Security
nexus under climate change?