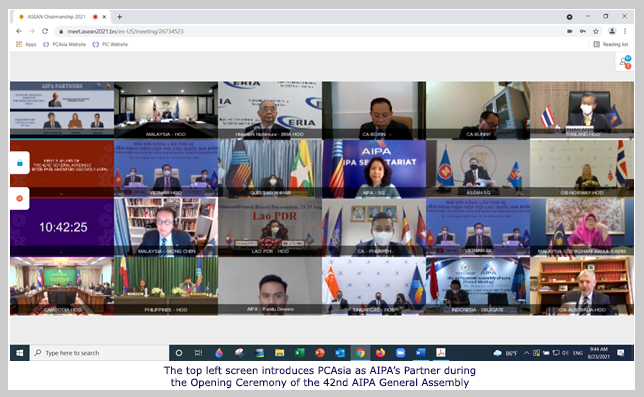 PCAsia is honored to be invited as an AIPA Partner to participate in the 42nd General Assembly of AIPA under the presidency of the Legislative Council of Brunei Darussalam. The theme of the 42nd AIPA General Assembly focuses on the contribution of AIPA Member Parliaments to the realisation of ASEAN Community 2025 by improving parliamentary partnership through digital inclusion.
Three delegates from PCAsia were registered to join the General Assembly taking place from 23 to 25 August 2021 virtually. Those delegates are Mr. Dararith KIM YEAT, Executive Director; Mrs. Kunthea KONG, Manager of Institutional Development Department; and Mr. Sonya HENG, Instructor.
PCAsia's mission focuses on contributing to strengthening the capacity of parliamentary staff and to promoting the sharing of knowledge, experiences, and good practices among AIPA Member Parliaments, and with others. Particularly, the PCAsia Programmes on Parliamentary Diplomacy and on Parliamentary Negotiation and Mediation, which are respectively supported and requested by the AIPA Secretary General, will help contribute to supporting the realisation of ASEAN Community 2025.