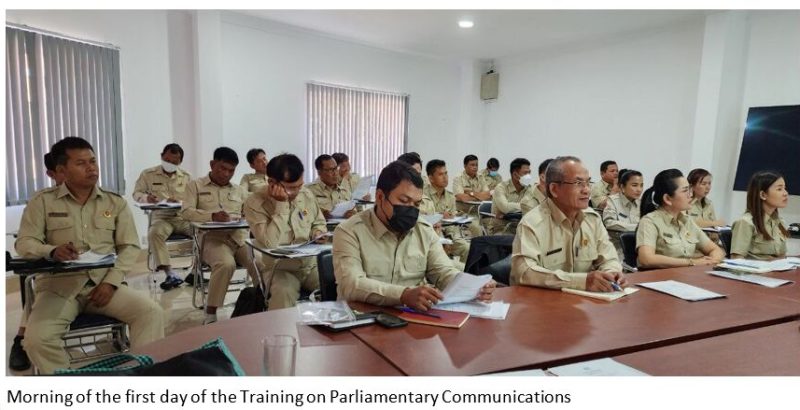 National Assembly staff from the Constituency Offices in Phnom Penh and in the provinces of Cambodia play key roles in supporting communications between the Parliament and authorities and citizens throughout the country.
To develop their capacity to perform important tasks, the Parliamentary Centre of Asia (PCAsia) organised the second training course of the year focusing on Basic Parliamentary Communications, delivered from 28 November to 2 December 2022.
The 26 trainees (four females and 22 males) learned about a wide range of subjects relevant to their work. Topics included:
The communications process – including one-way and two-way communications.
Why good communications (and PR) are essential to Parliaments.
The importance of messages and how to identify them.
The use of social media: their advantages and dangers. How to stay safe on the internet, and processes to ensure privacy, were also included.
The techniques for good facilitation and 'active listening'.
How to deliver spoken communications effectively.
The creation of a comprehensive communications plan.
Throughout the training, participants were given the chance to practise their skills – through the learning-by-doing approach – and were introduced to new analysis processes such as the Six Thinking Hats exercise. For this exercise, the focus was on identifying the values, drawbacks, and opportunities of social media.
The morning of day three included a session focusing on how to deliver important information related to laws and regulations to Cambodian citizens, and the processes in formulating related presentations that can make them simple and easily understandable to the public.
After a week-long training, the efforts of participants were acknowledged: all were awarded with certificates confirming their successful completion of the course.
The course trainers were Dr Jan TAYLOR, communications specialist, and Mr SAMOEUN Sothyro, communications practitioner, who ensured that both English and Khmer were used throughout.