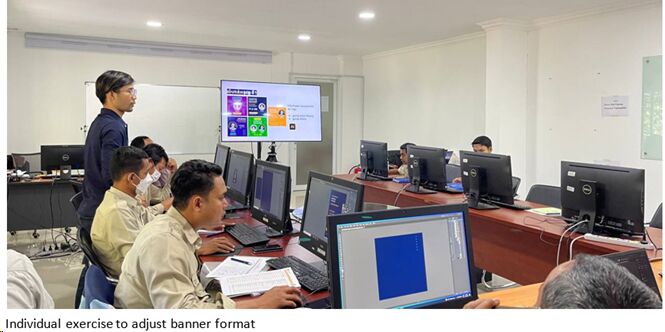 The ability to communicate with constituents in a way that is clear and easy to understand is an essential responsibility of staff working in the information departments of the Cambodian Senate and the National Assembly. Responding to this need, PCAsia organised a training course on infographics for parliamentary staff held from 13 to 28 December 2022.
Participants joined the course with the instructor Mr Phichith Kunthakcheat, with the aim of improving their foundation as graphic designers and the quality of their graphic design work, enhancing their applied creativity, and increasing their understanding of how to convey that is easy to understand, attractive and relevant to their working context. The 12 trainees (3 females and 9 males) – 6 from the Senate and the other half from the National Assembly – learned about a wide range of subjects including basic principles of graphic design and infographics, and how to use them in actual practice. Other sessions focused on the elements of graphic design such as lines, sizes, shapes, spaces, colours, textures, and value.
Throughout the training, Mr Phichith Kunthakcheat gave participants the chance to practice their skills, through a learning-by-doing approach, applying the basic elements and principles of graphic design into the adjustment of banner format and the designing of name cards. Participants displayed their enthusiasm throughout the training as they produced other practical outputs, including a short branding guidelines for the Senate and National Assembly, a leaflet on the different roles and procedures of the Senate and the National Assembly, and a poster on the structure and timeline of the National Assembly from the first to the current legislature.