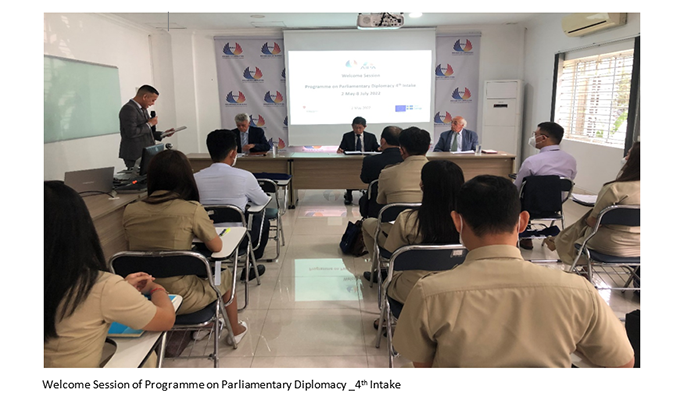 The aim of the PCAsia Programme on Parliamentary Diplomacy (PCAsia-PPD) is to strengthen capacity of parliamentary staff to better support the diplomacy work of their respective Parliaments. This training, now in its fourth year as a regional programme unique for the Southeast Asia region, officially opened on 2 May 2022 from the PCAsia Representative Office inside the Cambodian Senate compound. The opening sessions was introduced by PCAsia Executive Director Mr Dararith KIM YEAT, Professor Michel FOUCHER, former French Ambassador and Director of the Programme on Parliamentary Diplomacy, and Mr Xavier NUTTIN, former official of the European Parliament, currently a Senior Associate and Advisory Board Member of the European Institute for Asian Studies and Vice Chair of the PCAsia Board of Directors.
They joined together with the 20 parliamentary staff participating in this year's training, including 13 from the Parliament of Cambodia, 2 from the Philippines, 1 from Indonesia, 2 from Lao PDR, and one each from Thailand and the Secretariat of the ASEAN Inter-Parliamentary Assembly (AIPA). They constitute the fourth intake of the PCAsia-PPD, which is part of PCAsia's Knowledge Sharing Programme, a needs-oriented regional initiative which aims to contribute to strengthening parliamentary institutions in ASEAN upon request, with an emphasis on capacity and knowledge building of staff from AIPA Member Parliaments.
The 2022 training is composed of two modules. Module 1 includes two weeks of face-to-face training in Phnom Penh and a full week of hybrid learning where training will be conducted online (with some trainers present in Phnom Penh and with trainees participating from their respective Parliaments). All Module 1 sessions are being led by regional and international experts who will provide experience sharing on parliamentary diplomacy, guidance on the content of diplomatic documents such as country position papers and resolutions, and the steps involved in producing these documents. Participants receive readings and course materials on an online learning platform accessible through the PCAsia website.
Module 2 consists of four weeks of online (distance) practical training aimed at equipping participants with the technical skills needed to draft effective national position papers for parliamentary delegations attending inter-parliamentary meetings and events.
The final module is a one-week simulation exercise simulating an AIPA meeting, in which participants will work on consensus building and applying the knowledge and skills they acquire during the training.