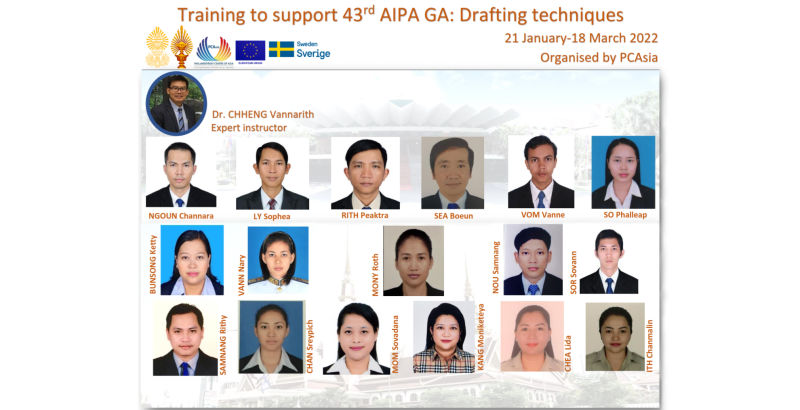 This year is the third time that the Cambodian Parliament is serving as Chair of AIPA. To support the Parliament prepare for what will be the 43rd AIPA General Assembly, PCAsia organised a training on Drafting Techniques for staff from key departments of the General Secretariats of the Senate and National Assembly.
The training took place from 21 January to 18 March 2022 with the participation of 17 trainees, including 9 women). During the training, Dr CHHEANG Vannarith, an expert instructor whose expertise is in policy communication helped guide trainees in the methods to draft resolutions, meeting scenarios, meeting reports of various AIPA Committees, speeches and joint communiques
A session on utilising a gender equality and human rights -based approach was included, providing trainees with the skills to mainstream these methods when they draft documents for AIPA and when they do research and analysis.
To acknowledge their effort over the past 7 weeks, on 18 March the Parliamentary Centre of Asia in collaboration with the General Secretariats of the Senate and the National Assembly, organised a ceremony to handover certificate to the 17 trainees.
Dr CHHEAN Vannarith shared his appreciation on the enthusiasm of trainees and recommended that management support trainees to participate often in interactive dialogues and seminars related to global geopolitics and geo-economics, Cambodia's foreign policy and the role of parliamentary diplomacy. He further stressed that English can be one of the key skills to consider improving among parliamentary staff who work to support parliamentary diplomacy, especially since English is the official language of ASEAN.
During the ceremony, Executive Director of PCAsia, Mr KIM YEAT Dararith emphasized that key to the success of any capacity building effort for parliamentary staff is the practical application of knowledge and skill after the training has completed: The more they have chance to use their knowledge and skills, the more they can sharpen them. He further expressed the commitment of PCAsia to further respond to the capacity building needs of parliamentary staff.
H.E. Mr KAY Ketninn, the Director General and the representative of the Secretary General of the National Assembly, in his remarks highlighted the importance of such training for the upcoming 43rd General Assembly of AIPA, and also for other regional and international events.
H.E. Mr OUM Sarith, Secretary General of the Senate, highlighted the importance of cooperation with different partners, especially PCAsia and, through PCAsia to support of capacity building for staff of Cambodian Parliament and of the other Parliaments in the region.