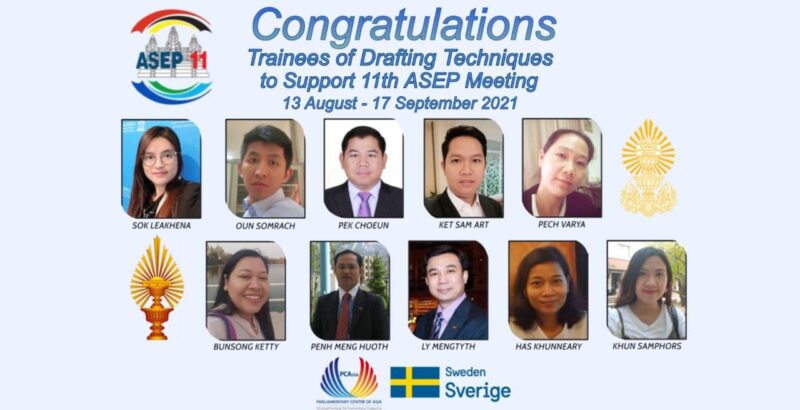 The Cambodian Parliament will host the 11th Asia-Europe Parliamentary Partnership Meeting (ASEP 11) meeting on 16 November 2021. The Parliament has much work to prepare the necessary documents to support an international meeting of this scale. In response to the Parliament request, the Parliamentary Centre of Asia (PCAsia) has initiated a training on "Drafting techniques to support the 11th ASEP meeting". Parliamentary staff, who are directly involved in helping to draft the documents to support this meeting were nominated to participate. The training has been conducted once a week from 13 August to 17 September 2021, delivered online.
Adopting the PCAsia "On the job training and coaching" approach with a focus on practicality, trainees were asked to use the theme and topics of the 11th ASEP meeting and learned and practiced how to draft a joint declaration, report, press release, minutes, meeting scenario and speech by Dr. CHHEANG Vannarith who provided participants with the knowledge and techniques on how to draft a variety of documents to support ASEP 11.
In the closing and certificate handover ceremony held virtually on 17 September 2021, H.E. Mr LENG Penglong, Secretary General of the National Assembly, and H.E. Mr OUM Sarith, Secretary General of the Senate expressed their high expectations from the trainees. They stated that all the participants will be assigned to support for the upcoming ASEP Meeting following this training. Both Secretaries General expressed their profound appreciation to PCAsia for choosing to organise such an important and timely training.
In response to both Secretaries General, Mr KIM YEAT Dararith, Executive Director of the Parliamentary Centre of Asia, indicated the ongoing commitment of PCAsia in contributing to strengthening of the capacity of parliamentary staff, in order to achieve both output and outcome results in order to contribute to constantly improving the overall performance of the Parliament.
The trust of all stakeholders, the beneficiary and partner parliaments as well as the bilateral and multilateral development partners (SDC, Sida, EU…), and that of implementing partners is key to reach our common objectives. The Executive Director expressed to all partners, his gratitude on behalf of PCAsia.
H.E. Mr OUM Sarith, H.E. Mr LENG Penglong and Mr KIM YEAT Dararith jointly congratulated the 10 trainees for their achievement, conferring upon them certificates of successful completion.