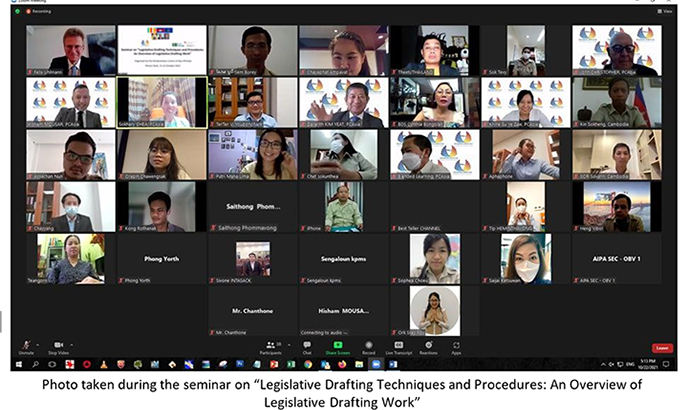 The thoughtful and methodical drafting of legislation is crucial to support parliamentary functions, especially the legislation function. This was the key message expressed by the Executive Director of the Parliamentary Centre of Asia (PCAsia) on the afternoon of 22 October 2021.
Thus, to contribute to improving the knowledge of parliamentary staff from AIPA Member Parliaments on legislative theory, principles, standards and methods on how to design good legislation and techniques for drafting and reviewing legislation, the Parliamentary Centre of Asia (PCAsia) organized a two-afternoon seminar on "Legislative Drafting Techniques and Procedures: An Overview of Legislative Drafting Work" held on 21 and 22 October 2021 via video conference. In attendance were 42 parliamentary staff from Cambodia, Laos PDR, Malaysia, the Philippines and Thailand and staff from the AIPA Secretariat participating in the comprehensive lecture of Dr Felix Uhlmann,professor of constitutional and administrative law and lawmaking at the University of Zurich.
In the two-afternoon seminar, participants have gained knowledge on addressee pyramid, normativity, legal architecture, legal language, vagueness and precision, the quest for good legislation, function and limitation of legislation, goals in legislation, regulatory instruments and the legislative process.
Participants also had the chance to share hands-on experiences on legislative drafting process from their respective Parliaments.
Those present stated that the seminar was very useful for them and very relevant to their work. They reported on how they could apply the knowledge in their work and how they appreciated learning about the detailed process of legislative drafting in Switzerland.
Following the positive outcome of the seminar, Mr Dararith KIM YEAT, the Executive Director of PCAsia, expressed his gratitude to Professor Dr Felix Uhlmann for his valuable contribution over the two day seminar. He also congratulated all the parliamentary staff from the AIPA Member Parliaments and the AIPA Secretariat for their commitment and focus during the seminar and hoped they would pass on their new knowledge to their colleagues.