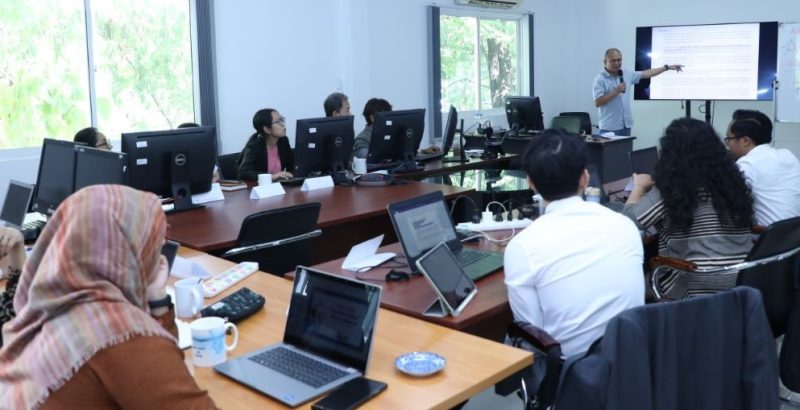 The PCAsia programme on Fiscal Analysis Capacity Training (FACT) to Assess Health Emergency Responses has the objective to provide AIPA Member parliamentary staff with principles of the state budgeting and monitoring process used to assess impediments to national health emergency responses, including any risks of corruption.. Thirteen staff members were selected from the parliaments of Cambodia, Indonesia, the Philippines, and Thailand to participate in the training programme.
The training has several stages including a hybrid portion (face-to-face for participants from the Cambodian Parliament and online for participants from other parliaments) and a face-to-face study mission in Cambodia for all participants. The study mission stage was organised for two weeks in Phnom Penh from 26 June to 7 July 2023. The aim was to provide a platform for promoting collaborative learning and real-time interactions among trainees, with expert trainers and resource persons.
During the first week (26 to 30 June), trainees had an opportunity to attend sessions with the expert trainer, Mr Anders Hedberg from Stockholm Economics on the "Budget process and fiscal policy under an emergency to respond to health issues", including with practical exercises.
The second week of the mission was for knowledge sharing, to discuss the experiences from different parliamentary budget offices in providing technical support to their parliaments in the budget process, particularly during the recent health emergency. To achieve the objective, PCAsia invited Budget Analyst Ms Ade Aida from the Centre for Budget Analysis and State Financial Accountability of the Indonesian House Representatives, , , and Mr Rommel Asuncion, Supervising Legislative Staff Officer III, from the Congressional Policy and Budget Research Department (CPBRD) of the Philippines House of Representatives. On 6 July 2023, Ms Nop Chanthy, Director of the Budget Research Department of Cambodian Senate General Secretariat joined to share her experience in budgetary technical support.
To conclude the mission, attendees paid visits to the National Assembly and Senate of Cambodia on 5 July 2023.