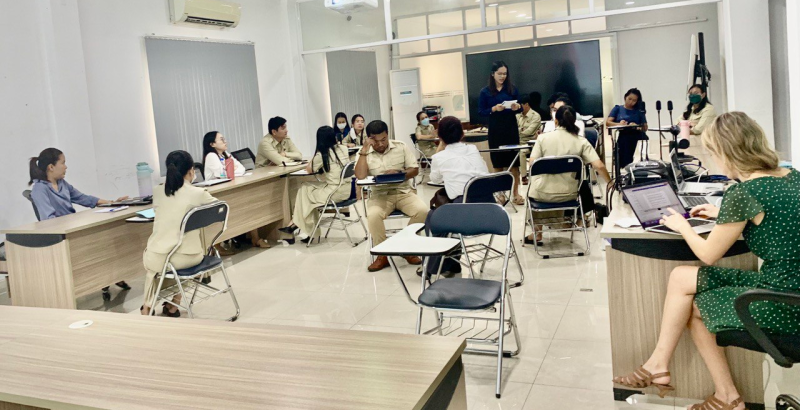 On 29 May 2023, PCAsia organised a closing and certificate handover ceremony for the Introductory Course on "Parliamentary Approaches to Gender Equality" (PAGE) to acknowledge the effort and commitment of the trainees.
The objective of this course, attended by 17 trainees (13 women and 4 men) from the Parliament of Cambodia, is to provide parliamentary staff with fundamental knowledge and practical skills to help them integrate aspects of gender mainstreaming and the human rights-based approach (HRBA) as methodologies in their parliamentary work.
The training was divided into three stages. The first stage was face to face training from 24 to 28 April 2023, which focused on research methodologies, important gender concepts, and HRBA principles following the P.L.A.N.E.T analytical framework. Theory was delivered in the morning sessions, with the afternoon sessions dedicated forpractical exercises, including interactive discussion, and case studies.
The second stage took advantage of remote mentoring and coaching, during which groups of trainees produced a concept note and memo on topics of potential interest to the Parliament. In the memo, groups were asked to include gender analysis, demonstrating gender-sensitive awareness and using gender-sensitive language and aspects of the P.L.A.N.E.T. principles (Participation, Links to human rights, Accountability, Non-discrimination, Empowerment, and Transparency) that they learned from the first stage.
During the final stage, trainees presented their group memos, followed by a constructive feedback session from PCAsia instructors.
At the closing and certificate handover, instructors Dr Lison GUIGNARD and Ms Keothyda KEM jointly congratulated the trainees for their hard work and commitment throughout the training, recognising that it was not always easy for the trainees to juggle their work in parliament with the demands of the course. Ms Keothyda KEM encouraged trainees to apply the knowledge and skills they into their work in order to contribute to promoting gender equality and leaving no one behind.
Speaking on behalf of the trainees, Mr Sarak KHEM noted the importance of the knowledge and skills that the trainees gained from the course to helped them to understand the concepts of gender, gender data statistics, the differences between sex and gender, and the human rights-based approach. He also described how applying these concerts can provide practical benefits to their work in the Parliament.
Mr Mario Pandu Dewono, Deputy Director of PCAsia, congratulated all the trainees for taking part in the programme, noting how COVID-19's social and economic effects have produced additional challenges to achieve gender equality. He also expressed his hope that the programme served its purpose in laying the foundation of the principles of gender equality that trainees will be able to apply in their parliamentary work.