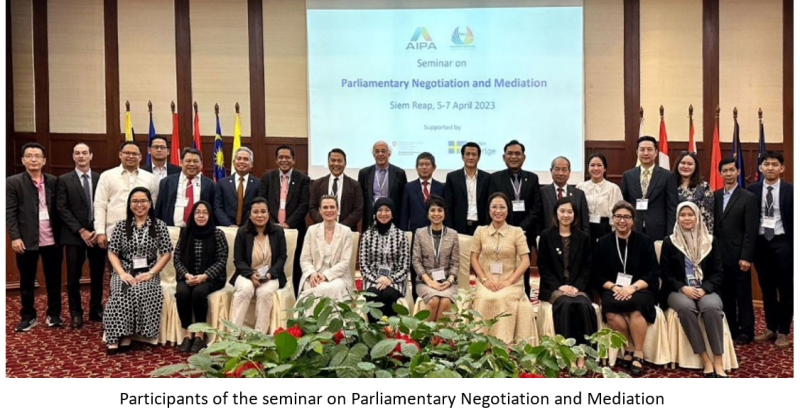 Mediation and negotiation are at the heart of effective parliamentary work, including parliamentary diplomacy. With this in mind, the Secretariat of the ASEAN Inter-parliamentary Assembly (AIPA) asked PCAsia to organise the Seminar on Parliamentary Negotiation and Mediation, which had its opening session on 5 April, 2023 in Siem Reap, Cambodia.
In the seminar's opening remarks, PCAsia Executive Director Mr Dararith KIM YEAT stated that the objective of the seminar was to contribute to further improve the collective knowledge of Parliaments in the region on the techniques of negotiation and mediation.
MPs and staff from the Legislative Council of Brunei, the National Assembly and Senate of Cambodia, the House of Representatives of the Republic of Indonesia, the National Assembly of the Lao People's Democratic Republic, the House of Representatives of the Philippines, the Senate and the House of Representatives of the Kingdom of Thailand, the National Assembly of the Democratic Republic of Vietnam, and King Prajadhipok's Institute (KPI) had the opportunity to compare their own experiences and practices on negotiation and mediation along with insights and knowledge from specialists and practitioners from institutions such as the Center for International Peace Operations (ZIF) in Germany, the House of Representatives of Indonesia, the French Senate, the AIPA Secretariat, and the European Parliament.
Sessions are being led by moderators H.E. Ar. Siti Rozaimeriyanty Dato Haji Abdul Rahman, the Secretary General of AIPA, and Mr Xavier Nuttin, Vice-Chair of the PCAsia Board of Directors and Senior Associate and Advisory Board Member at the European Institute for Asian Studies.
During day 1 the focus was on the unique characteristics or Negotiating, Mediating and Conciliation, and the skills and methods most useful for each of them. This were followed by a review of case studies from the parliaments of Indonesia and France, where participants shared experiences on how negotiators take place within the political and legal structures of parliaments.
Day 2 moved onto mediation and negotiating in regional and international contexts. There was a focus on challenges and methods to overcome them – agreeing to disagree in order to keep discussions moving onto other points of shared interest and urgent issues – also taking into consideration intercultural communication challenges. Discussions involved practical examples of the negotiation and decision-making process. This provided an opportunity to compare examples of the techniques used during meetings to reach consensus in, for example, the contexts of AIPA resolutions and ASEP joint declarations.