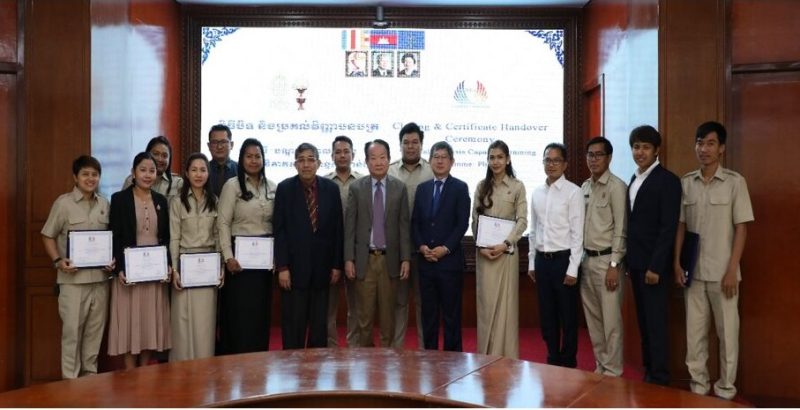 After a year and a half attending the PCAsia Fiscal Analysis Capacity Training Programme, 16 Trainees were awarded with certificates for their successful completion and commitment.
The Parliamentary Centre of Asia (PCAsia) organised a Fiscal Analysis Capacity Training Programme (FACT) Phase 2, delivered from July 2021 to December 2022. Sixteen Cambodian Parliament staff were selected for this programme. The training courses were delivered by local, regional and international experts in the fields of economics and finance, including those from the Parliaments of Sweden, and the Philippines who have extensive first-hand experience with Parliamentary Budget Offices (PBOs).
The overall objectives of the programme are to increase the capacity of parliamentary staff to perform fiscal analysis and related tasks, and to increase the transparency of public spending and funding through application of the parliamentary oversight function. This programme is part of the Partnership for Accountability and Transparency (PAT) funded by the Swedish International Development Cooperation Agency (Sida) and EU.
On 16 February 2023,PCAsia in collaboration with the Senate and the National Assembly of Cambodia organised the Closing and Certificate Handover Ceremony. During the event, Mr Dararith KIM YEAT,Executive Director of PCAsia, highlighted the background that led to the design and implementation of FACT Phase 1 and Phase 2 "based on the request of His Excellency Secretary General of the Senate and the Chair of the Commission on Economy, Finance, Banking and Audit (Commission 2) of the Senate."
His Excellency OUM Sarith, Secretary General of the Senate, remarked on the achievements of the FACT programme. He highlighted the main outcome of the FACT Phase 1, which is the establishment of the Cambodian Parliament's Budget Research Department (BRD), where all trainees were integrated. Hecontinued that in order to build upon this success, in Phase 2 the Senate was "able to nominate nine staff members to attend the training and we hope that those staff will be able to support the Parliamentarians to perform their role more effectively."
During her presentation Dr CHHUOR Sryneath, PCAsia's FACT Programme Manager, highlighted the key activities, achievement, outcomes and lessons learnt from the FACT 2 Programme along with a short video showing activities throughout the programme, including the study mission to the House of Representatives of the Philippines and of the Republic of Indonesia which exposed the trainees to the practical operation and experiences of PBOs in the region.
Four trainees also presented key points from their research papers, useful outputs of the training. Topics included a 2023 Budget Debrief by Mrs MOM Chenda, a Summary of Cambodia 2021 Fiscal Achievement by Mr SETH Suonvisal, an Overview of Property Tax in Cambodia by Mr LONG Bunhav, and one on the Social Protection Programme and Implications for Gender Budgeting by Ms TAUCH Chanrattana. His Excellency KAY Ketninn, Director General of Legislation and Research and the Representative of His Excellency LENG Penglong, Secretary General of the National Assembly, noted in his closing remarks that "the presentation of the National Assembly staff after this training are truly the outcome showing the commitment and hardwork of those trainees, instructors, experts and PCAsia."