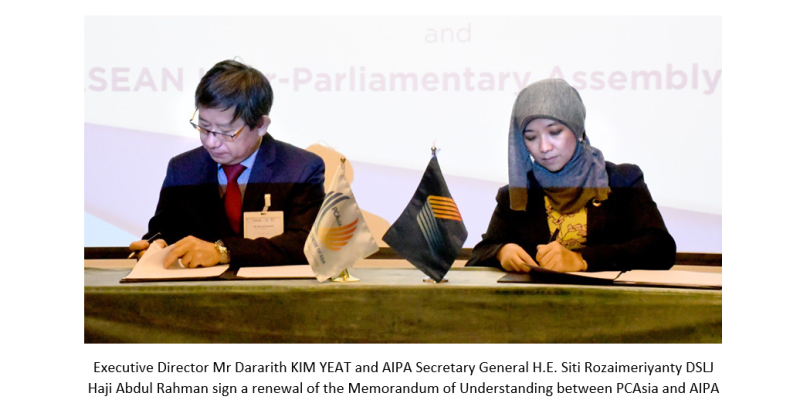 The signing of a renewal of the Memorandum of Understanding (MoU) between the AIPA Secretariat and the Parliamentary Centre of Asia (PCAsia) took place on 25 January 2023 in Jakarta, Indonesia. The PCAsia Executive Director, Mr Dararith KIM YEAT, and the Secretary General of AIPA, H.E. Ar. Siti Rozaimeriyanty Dato Haji Abdul Rahman, conducted the formal signing, which further extended the long-standing cooperation between the two organisations.
Also attending the event in Jakarta were representatives from AIPA Member Parliaments and staff of the AIPA Secretariat. His Excellency OUM Sarith, Chair of the PCAsia Board of Directors, other distinguished members of the PCAsia Board, together with PCAsia staff joined the event online.
The signing fulfilled the recommendation of Resolution Res 43GA/2022/Org/10 as unanimously agreed by AIPA Member Parliaments at the 43rd AIPA General Assembly on 23 November 2022 in Phnom Penh.