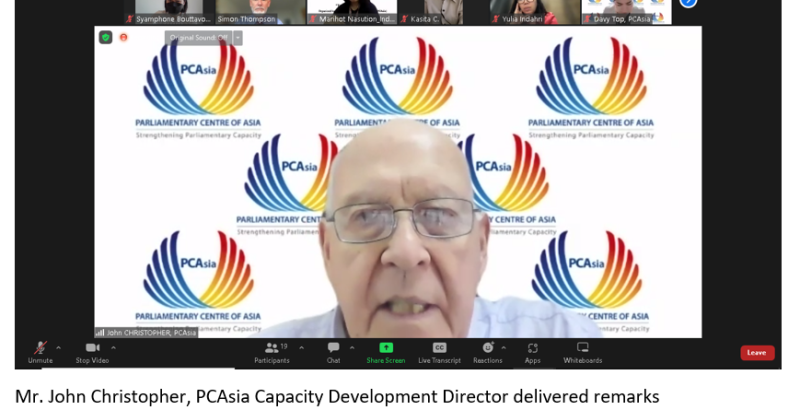 Vientiane Capital, Lao PDR, November 21, 2022: With the support from AIPA, the Parliamentary Centre of Asia (PCAsia) conducted the 5th intake of the Training of Trainers on Parliamentary Research (ToT, 5th Intake) for Strengthening Capacity and Professional Skills of AIPA Member Parliament Staff. This training was organized in hybrid mode, face-to-face for Lao participants and remotely for other parliaments in Vientiane, Lao PDR, with 18 parliamentary staff (trainees), of which 14 were women, six from Cambodia, six Laos, two from Indonesia, one from Malaysia, two from the Philippines, and one from Thailand. The ToT training was aimed at promoting leadership capacity in both future trainers and their participants through an exploration of the nature of professional knowledge, pedagogic strategies for training, mentoring, and coaching, the building of leadership capacity, and the place of reflection and evaluation in professional development within AIPA Member Parliaments. The goal of the program is to have the trainees produce a curriculum on how they would teach their colleagues to do parliamentary research. The program is led by an academic team from the University of Sussex, the UK, and the PCAsia team.
The ToT program is the second activity that PCAsia has delivered in Laos, following the opening remarks by the PCAsia Capacity Development Director, Mr. John Christopher, who indicated the significance of the program and presented the course details by Professor Simon Thompson, Head of the School of Education and Social Work National Teaching Fellow. The program was divided into three different stages.
Stage 1: from 14 to 21 October 2022 (Completed)
On 14 October 2022, PCAsia together with the University of Sussex team organized an induction session to provide an overview of the course, establish modes of learning, communication, the objective, approaches, and the outcome expectations.
During 17-21 October 2022, the ToT training was delivered in hybrid mode, face-to-face for Lao participants and online for other member parliaments, to provide leadership capacity, mentoring and coaching approaches and learning-centered pedagogies along with the various learning technologies including blended learning and flipped classroom learning.
On day one, the training started with reflections on current strengths and areas for development as well as aspirations for effective leadership and mentoring of others. Participants were encouraged to consider their own needs and challenges as well as those of those they lead and support. Day-two focused on mentoring, coaching, and counseling. On day three, the participants learned teaching strategies and learning technologies as the means to strengthen and enhance approaches in pedagogic training from Mr. Tab Betts and Emily Danvers, University of Sussex. On day four, for example, the participants learned effective leadership skills and how to develop high-performing teams by emphasizing trust building, conflict management, planning, reviewing, and teaching scenarios, as well as problem solving, and providing feedback to trainees. Day 5 provided the trainees with a pragmatic approach to leadership and training, focusing on exploring issues of inclusion in professional contexts, reflecting on their awareness of equality, diversity, bias, and inclusion in professional contexts, understanding mainstreaming gender as an inclusivity case study, and developing approaches for fostering inclusive and supportive communities of practice to cascade change in professional contexts. Except for the session on training technologies, the sessions were led by Prof. Simon Thompson and Dr. Tamsin Hinton-Smith.
Next phase of ToT program:
Sage 2: from 18 November 2022 to 16 February 2023 (online mode for all participants, ongoing program)
Development of a Parliamentary Research Training Curriculum that outlines new ways and steps to lead, train, coach and/or mentor colleagues in how to undertake parliamentary research work. This stage will be facilitated by PCAsia instructors by distance. The final draft of the Parliamentary Research Training Curriculum will be assessed by the University of Sussex.
Stage 3: from 6 – 10 February 2023 (online mode for all participants)
Following the assessment of the Parliamentary Research Training Curriculum by the University of Sussex, the trainees will make a presentation of their final Parliamentary Research Training Curriculum to PCAsia Capacity Development instructors and other trainees for experience sharing and comments from the PCAsia's instructors. This will allow the trainees and PCAsia's instructors to exchange and share feedback on how each trainee delivers their Parliamentary Research Training Curriculum, applying the pedagogic approach that they gain from the one-week training with the instructors from Sussex University. It will explore the skills and a clear vision on how to lead, mentor and coach others in professional trainings in their institutions.