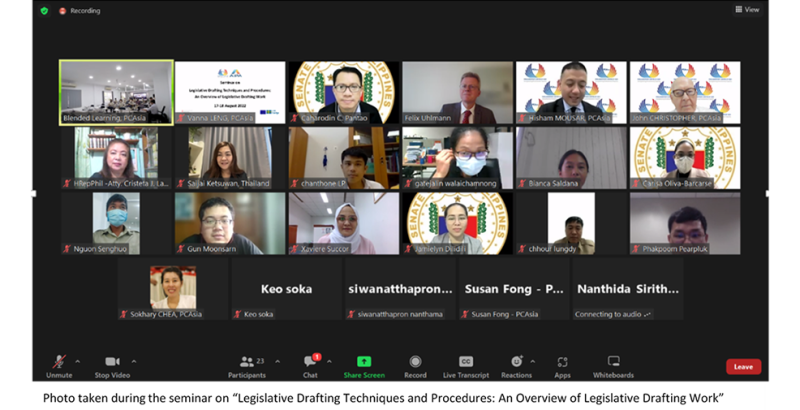 The methodical and effective drafting of legislation is an essential part of parliamentary work, as noted by the Director of the Capacity Development Department of the Parliamentary Centre of Asia (PCAsia) at the opening of the seminar on "Legislative Drafting Techniques and Procedures: an Overview of Legislative Drafting Work", held on 17-18 August 2022.
PCAsia organised the seminar to contribute to the improvement in knowledge of parliamentary staff of the participating AIPA Member Parliaments on legislative theory, principles, standards, and methods used to design legislation, as well as the techniques for drafting and revising legislation. The training was delivered in a hybrid mode, with parliamentary staff from the Cambodian Parliament participating in-person, and parliamentary staff from other AIPA Member Parliaments joining online. Thirty-five parliamentary staff members from Cambodia, Lao PDR, the Philippines and Thailand attended the detailed and enlightening presentation by Dr Felix Uhlmann, Professor of Constitutional and Administrative Law and Legislation at the University of Zurich, Centre for Legislative Studies.
Participants also had the chance to share hands-on experiences on the legislative drafting process in their respective Parliaments, and ask to questions.
Mr Hisham Mousar, PCAsia Supervisor for Quality Control and Technical Support, gave a special thanks to Professor Uhlmann for elucidating in a very short time the main principles of legislative drafting, providing a stimulating introduction to a complex subject which, too often, is not sufficiently taught at school or university. He also shared his hope that following the sessions from Professor Felix Uhlmann on this complex and important subject, the parliamentary staff present at the seminar would take the initiative to explore the subject in greater depth, helping to them to concretely apply the lessons learnt during the seminar to their parliamentary work on legislation.
At the conclusion of the training, Mr. John Christopher, PCAsia Director of Capacity Development, expressed his gratitude and his invitation to Professor Uhlmann to join the next year's seminar. He also congratulated all the participating parliamentary staff for their commitment and focus and stressed the importance of them passing on their new knowledge to their colleagues.