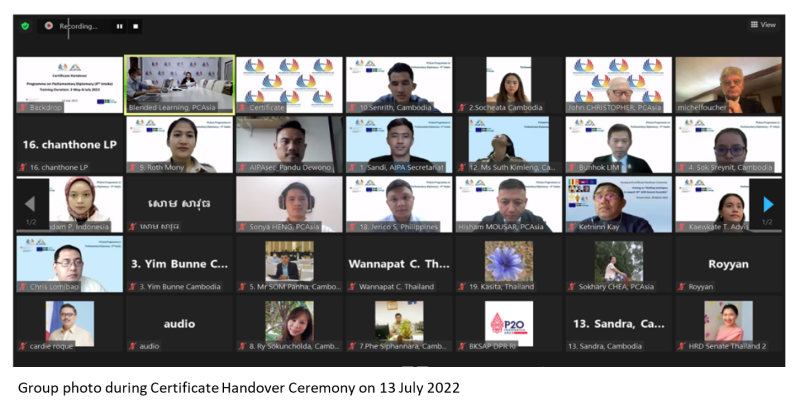 Phnom Penh, 13 July 2022: After eight weeks of training, from 2 May to 8 July 2022, today marks the end of the fourth intake of the Programme on Parliamentary Diplomacy (PPD) and the successful completion of the training by the 19 participants who joined the programme from AIPA Member Parliaments and the AIPA Secretariat, a certificate ceremony was held in recognition of their efforts, commitment, active engagement, strong solidarity and networking. It was attended by distinguished guests and representatives from the AIPA Secretariat, the Parliaments of Cambodia, Indonesia, the Philippines and Thailand, and Professor Michel Foucher and PCAsia.
Consistently, the aim of the PCAsia-PPD is to provide trainees with knowledge, skillsets, and techniques that enable them to better support their Parliamentarians in their increasing role in international/foreign affairs.
Professor Michel Foucher, former Ambassador and Programme Director, expressed that those parliamentary staff participating have not only been trained, but together with their peers have also exchanged knowledge about their parliamentary cultures and practices of their respective countries and that this exchange is rewarding and useful and reflects the spirit that inspires ASEAN and AIPA. He also mentioned the three modules of the training that included experience sharing, training and a diplomacy simulation. He stressed that the simulation week had been very positive, with a very convincing draft resolution produced by the trainees, which reflected the regional dimension of the programme.
Representatives from the AIPA Secretariat, Cambodia, Indonesia, the Philippines and Thailand shared congratulatory remarks with the successful trainees and how the training is relevant to their work and provides an opportunity for building network. In particular, speakers stressed that the training programme had been instrumental in enhancing knowledge and practical skills development through the study of theories and writing position papers on each country as well as drafting resolutions during the AIPA Committee simulation.
H.E. Mr LIM Bun Hok, Deputy Secretary General of the Cambodian Senate, also expressed three main takeaways to the trainees as follows:
Parliamentary diplomacy facilitates direct interaction between representative bodies acting on behalf of citizens.
Parliamentary diplomacy is not exclusively aimed at establishing the legal basis for international relations. It also seeks to strengthen ties and solidify inter-state and inter-regional integration.
Parliamentary diplomacy predominantly seeks to enhance understanding between countries, to make governments more accountable, to better able to represent the people, and to increase the democratic legitimacy of intergovernmental institutions.
Mr Hisham MOUSAR, PCAsia Supervisor for Quality Control and Technical Support, on behalf of the Executive Director Mr Dararith KIM YEAT, thanked the implementing partners and funding partners as well as regional and international experts for making the fourth intake of the regional training programme on parliamentary diplomacy possible.