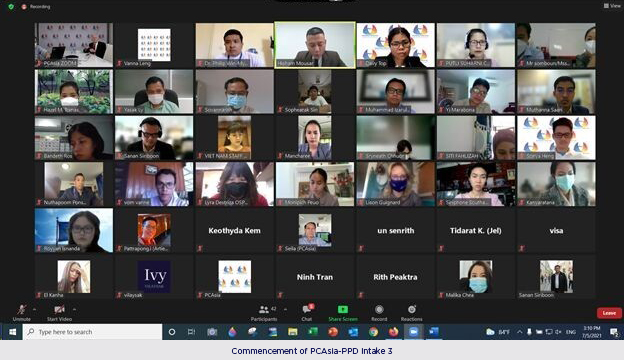 The Parliamentary Centre of Asia (PCAsia) has just begun an online Programme on Parliamentary Diplomacy that will run for ten weeks, from 5 July through 10 September, followed by a one-week simulation session in late October 2021.
Involved are 30 trainees from AIPA Member Parliaments including staff from the AIPA Secretariat. The programme is being offered by PCAsia, established in early 2021 as the successor of the Parliamentary Institute of Cambodia, founded in 2011, a transition that reflects an expansion of activities with parliaments across ASEAN region and encouraged through a MoU with the ASEAN Inter-parliamentary Assembly (AIPA). PCAsia-PPD's aim is to strengthen capacity of parliamentary staff to better support the diplomacy work of their Parliament. The main objective of the PCAsia-PPD is to provide trainees with knowledge, skillsets and techniques that will enable them to better support Parliamentarians in their increasing role in international/foreign affairs.
The training is part of PCAsia's Knowledge Sharing Programme, a needs-oriented regional initiative which aims to contribute to strengthening parliamentary institutions in ASEAN, upon request, with an emphasis on capacity and knowledge building of staff from AIPA Member Parliaments.
Trainees have expressed their interest in the programme and that they hope to develop their skills in order to effectively serve their Parliaments and MPs. An explanatory briefing on Digital Skills used during the training is also provided.