 Water-Energy-Food Security Nexus Approach in the Context of Climate Change: Possible Collaboration between Asia and Europe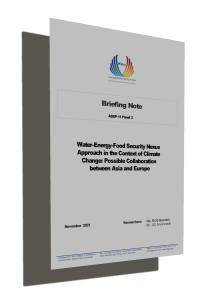 This briefing note seeks to address three research questions:
What is the status of Water-Energy-Food Security in Asia and Europe?
What are the challenges facing by the two regions related to water, energy and food
security?
How could Asia and Europe cooperate more to increase food security, while managing
the water and energy challenges in the framework of the Water-Energy-Food Security
nexus under climate change?