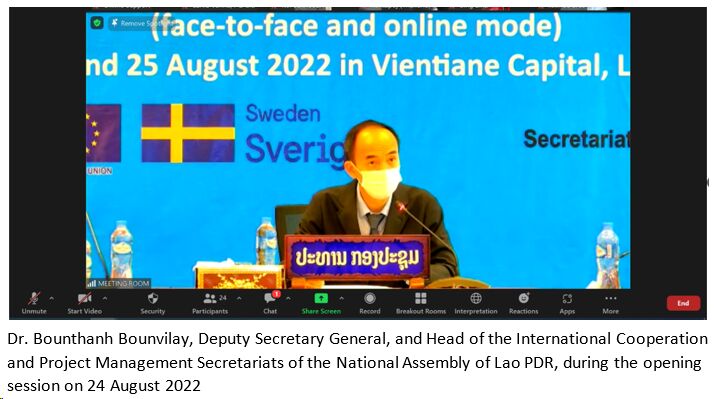 Vientiane Capital, Lao PDR, August 29, 2022
During 24-25 August 2022, the third intake of the Workshop on Parliamentary Committee Work was organized at the National Assembly of Lao PDR with 42 participating parliamentary committee staff, including 19 from Cambodia, 19 from Laos, two from the Philippines and two from Thailand. It is the first joint programme between the National Assembly of Lao PDR and the Parliamentary Centre of Asia, and the first time PCAsia has delivered its training physically in Laos. Opening remarks were presented by Dr. Bounthanh Bounvilay, Deputy Secretary General, and Head of the International Cooperation and Project Management Secretariats. Remarks by the PCAsia Capacity Development Director, Mr. John Christopher were also delivered outlining the importance of parliamentary committees and their role in parliaments.
Parliamentary committees are a vital part of the work of Parliament. They examine issues of bills/proposed laws in detail so that lawmakers can make well-informed decisions. This programme aims to strengthen the knowledge of parliamentary committee staff on their respective parliamentary roles including common tasks such as providing procedural advice, preparing committee agenda, communicating with line ministries and other institutions, writing committee reports, policies and legislation studies, drafting briefing notes, preparing questions, preparing amendments. The workshop also focused on networking opportunities and the exchange of good practice between parliamentary practitioners on ways to effectively provide and facilitate the quality and timely administrative and technical support their respective parliamentarians.
The first day highlighted knowledge sharing on the parliamentary committee system in the House of Commons of Canada and the Legislative Assembly of Ontario (the provincial level), Canada. Through this process, participants gained knowledge on the different types of committees, their membership, their roles and powers based on Canada's parliamentary system at the National and Provincial Levels.
The second day focused on participants sharing their best practices on different committee work of their parliamentary systems in Cambodia, Lao PDR, the Philippines and Thailand. The discussion resulted in various lessons learned and a good understanding among participants about how to select a topic of study for a committee, drafting a committee work plan, organising hearings of witnesses and reviewing, revising and adopting a report. This was followed by a live presentation by the Swiss Parliamentary Services on Parliamentary Committees in the Swiss Parliament. All of the sessions included multiple questions and answers and detailed exchanges between the participants and presenters.
It should also be recognised that all of participants showed strong commitment to learning and institutional strengthening through their hard work during this workshop, which will contribute to strengthening the capacity of participating AIPA Member Parliaments. Organisers also wished to share their thanks to the expert practitioners, Mr Michael Morden from the Legislative Assembly of Ontario, and Mr Michael Ruch and Mr Nicolas Reist from the Swiss Parliamentary Services, who have generously shared their time and expertise during this activity.