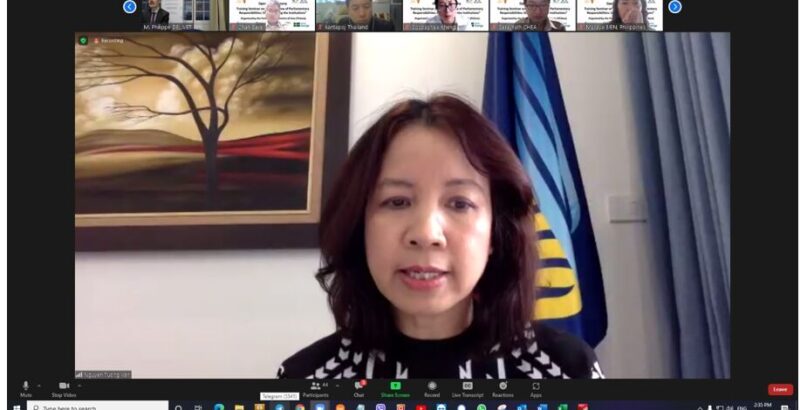 The 2021 Training Seminar on "An Overview of Parliamentary Responsibilities: Strengthening the Institutions" will be run for four weeks from 24 November to 14 December, hosted by the Parliamentary Centre of Asia (PCAsia) after its successful evolution from the Parliamentary Institute of Cambodia (PIC) earlier this year.
On the afternoon of 24 November 2021, the official opening of this training seminar was delivered by H.E. Mrs NGUYEN Tuong Van, Secretary General of the ASEAN Inter Parliamentary Assembly (AIPA).
During the first session, there were 32 attendees from participating AIPA Member Parliaments and from King Prajadhipok's Institute (KPI), with resource persons from the French Senate and National Assembly, the European Institute for Asian Studies, the Swedish Parliament, the AIPA Secretariat and colleagues from PCAsia. Moderators are joining the event from the Swedish Parliament, Singapore and PCAsia.
In the opening remarks, Her Excellency NGUYEN Tuong Van expressed her sincere thanks to Executive Director of PCAsia Mr Dararith KIM YEAT for inviting her to join this training seminar. She also stressed the importance of the seminar's topic, which contributes to enhancing theoretical and practical knowledge of parliamentary staff on parliamentary responsibilities. Her Excellency continued to describe how the seminar will help to improve knowledge and develop skill and capacity of parliamentary staff to support legislators better fulfil their constitutional roles. Moreover, she informed the delegation about the successful transition of PIC to PCAsia, and how the new Centre would embrace a more regional focus, working in partnership with AIPA. She confirmed AIPA's commitment to continue providing suitable candidates from the secretariats of ASEAN Member Parliaments to participate in PCAsia's capacity development programmes.
As explained by the Secretary General, the virtual training features topics focused on the three core functions of the Parliament – legislation, representation, and oversight, complemented by subject matters including the parliamentary system of various Parliaments, the overall political systems in different countries, and the evolving role of parliamentary diplomacy. The topics are tailored to encourage knowledge sharing of parliamentary practices among AIPA Member Parliaments, with the aim of contributing towards strengthening the capacities of those institutions. Divided into six sessions, Session 1 offers a Presentation on Parliamentary System, Structure and Work of ASEAN Countries. Session 2 provides an overview on the Various Political Systems of Canada, France, and an Introduction to the European Parliament. Session 3 is a sharing of best practices regarding the legislative functions in France, the European Parliament and Cambodia, and will also address the parliamentary budget office: experiences from Sweden, the Philippines and Senate of Cambodia. Session 4 deals with the representation function of parliament and will discuss topics on outreach and communication. Session 5 is about oversight function, and Session 6 will tackle parliamentary diplomacy, particularly the sharing of experience from the AIPA Secretariat and Thailand in organizing the AIPA General Assembly.