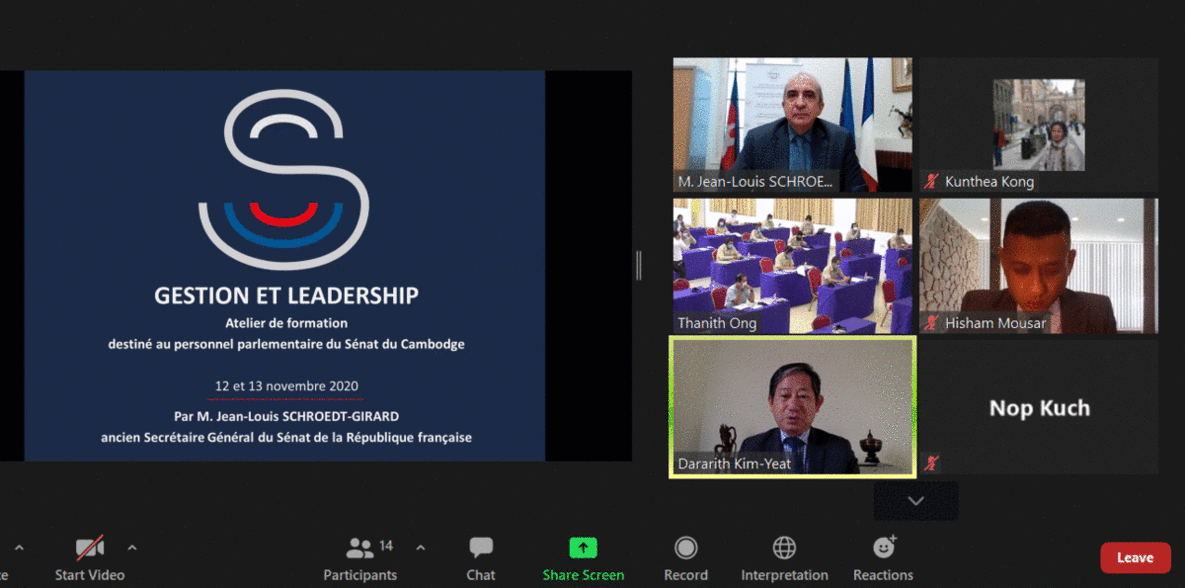 This marks a great occasion as the General Secretariat of the Cambodian Senate, in collaboration with the Parliamentary Institute of Cambodia, has launched a two day training seminar on "Management and Leadership". The workshop was conducted online on 12 and 13 November 2020 and attended by 36 senior management officers of the Senate, among which 10 are women.
The objectives of this training workshop are to provide opportunities for the participants to learn and exchange experiences with parliamentary practitioners from the French Senate about experiences and best practices on French institutional reform and on the management of resources.
Former Secretary General of the French Senate, Mr. Jean Louis Schroedt Girard, who is the resource person of the two day training workshop, has committed to share his management and leadership experiences and expertise in the parliamentary area for the benefit of Cambodian parliamentary staff.
During the workshop, Mr. Jean Louis Schroedt Girard shared with participants the experiences of reforms in the French Senate, highlighting the objectives of reform, the different stages, reform elements, reform context, and human resource requirements, including assessment of performance, capacity development and mobility.
The contribution of the French Senate is done in accordance with the cooperation agreement between the Parliamentary Institute of Cambodia and the French Senate made in October 2019.
During the opening session, Mr. Dararith Kim-Yeat, Executive Director of the Parliamentary of the Parliamentary Institute of Cambodia, on behalf of the Secretary General of the Senate, thanked Mr. Jean Louis Schroedt Girard for his commitment and contribution. He further expressed his profound thanks to the French Senate for their support of PIC's capacity building and knowledge sharing programs, through their providing of parliamentary expert practitioners as resource persons in the programs.