ADB Statistical Database System (SDBS)
The Statistical Database System (SDBS) is Asian Development Bank's central statistical database containing macro-economic and social data of developing member countries (DMCs). SDBS data is derived from statistical contacts, mostly national statistics offices and central banks of the DMCs. SDBS also stores data from other databases and websites of international organizations.
Bentham publishes a number of peer-reviewed, open access journals. These free-to-view online journals cover all major disciplines of science, medicine, technology and social sciences.
Bielefeld Academic search engine (BASE)
BASE is search engine primarily for academic open access web resources, operated by Bielefeld University Library (Germany). Initial search results are organized by relevancy with tools to further refine searches. The search results citations include links to the full-text documents enabling access to 240 million documents from more than 8,000 content providers
BMC a ground breaking organization for the provision of Open Access journals since 1999, provides access to 300 peer-reviewed journals, sharing discoveries from research communities in science, technology, engineering and medicine.
CORE  is a database of millions of Open Access articles across multi disciplines,  with  links to full text articles. Advanced search options author, journal, repository type of publication, and year.
Digital Library of the Commons Repository
Run by Indiana University, the Digital Library of the Commons (DLC) Repository is a multidisciplinary journal repository that allows users to check thousands of free and open access articles from around the world. You can browse by document type, date, author, title, and more or search for keywords relevant to your topic.
Directory of Open Access Books (DOAB)
The primary aim of DOAB is to increase discoverability of Open Access books. Academic publishers are invited to provide metadata of their Open Access books to DOAB. DOAB enables researchers and students to access books in the fields of Agriculture and Food Sciences • Arts and Architecture • Biology and Life Sciences • Business and Economics • Chemistry • Earth and Environmental science
Directory of Open Access Journals (DOAJ)
DOAJ is a community-curated online directory that indexes providing access to high quality, open access, peer-reviewed journals. DOAJ is independent. All funding is via donations. All DOAJ services are free of charge including being indexed in DOAJ. All data is freely available.
A US based search portal for Economics, with direct access to full text research articles in Economics and related subjects. Not all articles indexed are available on "open access"
Food and Agriculture organization FAO
The FAO document repository is an online archive for collecting, preserving and disseminating digital copies of FAO knowledge outputs to ensure that they are available to the widest possible audience. It contains publications, journals, and official meeting documents, technical reports and information materials produced by FAO offices worldwide.
Google Scholar provides a search of scholarly literature across many disciplines and sources, including theses, books, abstracts and articles. However, not all content found in Scholar is free. When you find a non-free article, click the All x versions option, you might find a free pre-published versions of the article.
IDEAS is the largest bibliographic database dedicated to Economics and available freely on the Internet. Based on RePEc, it indexes over 3,300,000 items of research, including over 3,100,000 that can be downloaded in full text. RePEc is a large volunteer effort to enhance the free dissemination of research in Economics which includes bibliographic metadata from over 2,000 participating archives, including all the major publishers and research outlets.
Indices of Social Development
The Indices of Social Development (ISD) hosted by ISS at Erasmus University ,Rotterdam brings together 200 indicators, synthesising them into a usable set of measures to track how different societies perform along six dimensions of social development. The indices are composed from 25 reputable data sources for 193 countries, over the period from 1990 to 2010, and are updated as new data become available. The indices are aggregated using the innovative method of 'matching percentiles'.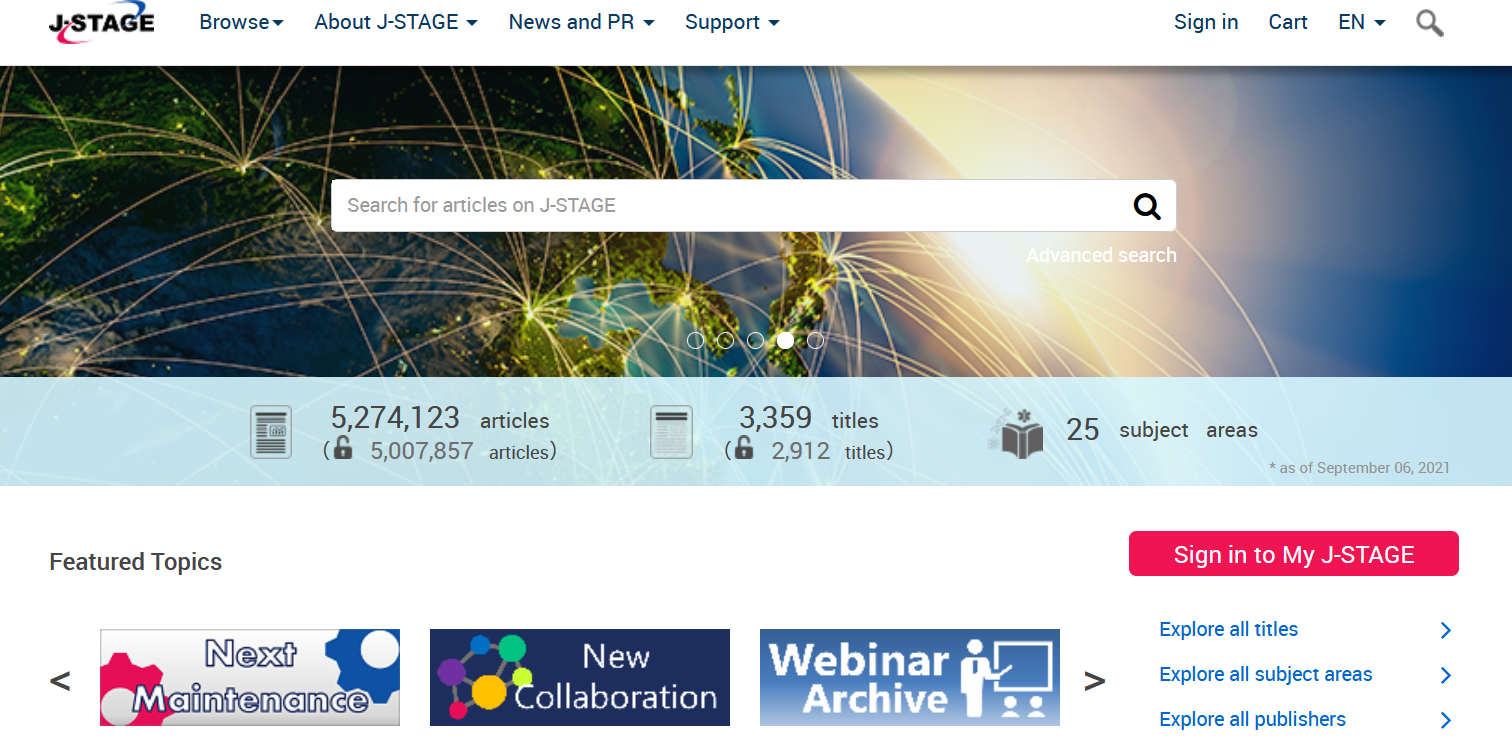 J-Stage (Japan Science and Technology Information Aggregator, Electronic)
J-STAGE is an electronic journal platform for science and technology information in Japan, developed and managed by the Japan Science and Technology Agency (JST). J-STAGE aims to accelerate the speed of communication and ensure the internationalization of the science and technology information published in Japan. By providing an online publication platform, J-STAGE supports Japanese societies and research organizations, and has published more than 2,000 journals, conference proceedings and other academic publications with high speeds at low costs.
JURN is a directory of open access journals in the fields of Arts and Humanities Includes a most useful   introduction: "How do I use JURN?"
Multidiscipline Digital Publishing Institute is a publisher with years of experience MDPI publishes over 330 diverse, open-access journals. A complete list of available journals can be found on the website. Also includes the Land portal https://www.landportal.org/organization/mdpi-online-open-access-journals
National Geographic Mapmachine
This free web resource atlas may be used to locate nearly any place on Earth, search for and print historical information, weather, use these dynamic population, and other maps of the particular location.
OAPEN (Online Library and publication platform)
The OAPEN Library contains freely accessible academic books, mainly in the area of Humanities and Social Sciences. OAPEN works with publishers to build a quality controlled collection of Open Access books, and provides services for publishers, libraries and research funders in the areas of dissemination, quality assurance and digital preservation.
ECD iLibrary is the online library of the Organisation for Economic Cooperation and Development (OECD) featuring its books, papers and statistics and is the knowledge base of OECD's analysis and data.
Search over 2600 open access academic repositories run by the Centre for Research communications (CRC), University of Nottingham. Links to various resources are listed on the Country and Organizations access page. Also available is a Search Repository Contents page. The search results include links to the full-text document held in institutional, subject-based or governmental repositories of open access material.

Now incorporated in  DANS, Open Grey, a consortium of academic institutions in Europe, is a database of 700,000 grey literature references in Europe plus links to many full-text documents – technical or research reports, doctoral dissertations, conference papers and official publications. Search results are organized by author, organization, discipline, keyword, and year and document type with access to the full-text documents. Examples of grey (gray) literature include technical or research reports, doctoral dissertations, some conference papers, some official publications, and other types of grey literature. OpenGrey covers Science, Technology, Biomedical Science, Economics,

Open Library of Humanities
The Open Library of Humanities (OLH) is a charitable organisation publishing open access scholarship funded by an international consortium of libraries who have joined us in our mission to make scholarly publishing fairer, more accessible, and rigorously preserved for the digital future. The OLH publishing platform supports academic journals from across the humanities disciplines, as well as hosting its own multidisciplinary journal
Open Research Online (ORO)
Open Research Online (ORO) is an Open Access repository of The Open University's peer reviewed and published research, as well as other research output types which meet the definition of research. The service is publicly accessible and can be browsed and searched freely. While most records are research papers, the repository allows a range of research output types to be recorded.
Population Reference Bureau
PRB offers a rich and newsworthy stock of content, covering both U.S. and international demographic trends. PRB's website is your first stop for population information. You can read excerpts or full text of PRB publications, search across the websites for information tailored to your needs, and create customized data tables by using DataFinder.